Sterling Heights, MI's Leading Catering Company
Professional Catering Company: Catering in Southeast Michigan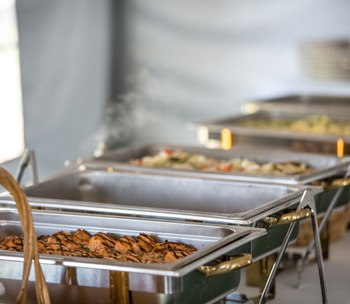 Your event is special and unique whether it is a work conference, birthday, wedding, fundraising or a graduation ceremony. You have many things to consider and options to choose from to make it not only a success but also a memorable event. This includes the theme, venue and the food. The cuisine of your event is the most important. It requires a lot of preparation and thought to ensure you get the highest quality food possible.
The Kosch catering company offers you full service catering and event planning for any occasion. We are highly committed to perfecting the craft of combining entertainment and food to make your event a memorable brand impact.
Kosch's Event Planning Services in Sterling Heights MI
Our event experts understand what exactly it takes to produce a stellar event. With 30 years of service in SE Michigan, Kosch event specialists believe in a meticulous event planning that's why we offer suggestions on whom to rent chairs, covers and tents as well as the event location. This are just some of the things that make Kosch the best event planning company in SE Michigan.
Catering Menus for Every Person
Kosch catering strives to make our menus as flexible as possible, whether your guests have food allergies, dietary restrictions or preferences, we have choices for everyone.
Health Issues - From food allergies to diabetes to celiac disease, people may have issues that puts a strict limit on what they can and cannot eat. Our team takes your guests health issues very seriously. We will accommodate them to ensure they have delicious food without the worry.
Cultural, Moral, & Religious Issues - Some religions have dietary restrictions, and even guests who are not religious may want to avoid particular foods their own personal reasons. At Kosch catering, we will gladly accommodate your guests and prepare special meals for them. We will take all these factors into consideration by not only selecting the foods, but also in preparing and separating them.
Taste Preferences - At Kosch catering, we know not everyone has the same palette! Which is why we offer a large variety of catering options so you can choose the dishes that everyone will enjoy.
---
We're Sterling Heights, MI's Recommended Catering Company
At Kosch Katering, we value our clients experience. Browse through some of our client reviews to get a better idea about our services.
Kosch was a fabulous company to work with. Lana (the coordinator I worked with) was always very prompt at returning phone calls and emails. I always felt assured that she had everything under control. The staff on-site at the chateau were truly a JOY to work with. Jerry and Amber really stood out to me in making sure my day was just as I had hoped. I can't say enough good things. Plus the venue is a gorgeous backdrop for any style of wedding. I was married on-site and the river was so beautiful to have in pictures. Chateau on the River at Elizabeth Park. The Knot Review from Alex T, 12-13-16
---
Lana and Robert were amazing to work with, and the chefs did a brilliant job accommodating my vegan menu requests. Wonderful staff on the day of, as well. We had our wedding at Stony Creek Metropark. It was beautiful. Kosch made everything run smoothly and seamlessly. I highly recommend them. Sunset Terrace at Stony Creek Metropark, Facebook Review
---
Our Michigan Catering Company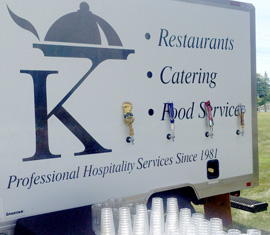 Our culinary and creative staff with their instinctive ability to blend and identify new ideas, concepts and trends into creative solutions works tirelessly to make sure that every event is memorable, fresh and exciting. We offer savory eats and treats, plating, creative stations, craft cocktails, stylish beverages, floral and decor and fashion forward finishing.
Planning, or looking for an event planner in Metro Detroit? Kosch is the company to contact. Visit our Website for more information and call us today. Our customer service experts are happy and ready to schedule for bookings with us anytime.