Convenient Corporate Catering in Michigan
---
No matter where your corporate party or meeting will be held, we can get you the food you ordered when and where you need it.
At Kosch Catering, we are experts at catering all sorts of business and corporate events, from casual lunches to company parties, to more formal dinner gatherings. Our Michigan corporate catering experts will work closely with your team to learn the details of your event. After that, we will engineer a menu that fits the needs of all of your attendees while staying within your budget. We always deliver delicious food, but we also take great pride in our ability to exceed our customers' expectations.
One of the most important steps in planning any corporate event is choosing the right location. Kosch Catering helps solve this problem by offering off-site catering delivery anywhere in metro Detroit. No matter where your corporate party or business meeting will be held, we can deliver.
Michigan's Best Full-Service Catering Delivery - Morning, Noon & Night!
When planning a business meeting or event, you not only want caterers that can reach your venue, but you need a caterer that can get there in time! Our team has experience catering for morning, noon and night events. We will plan the route to your event ahead of time and make sure to leave with more than enough time to get there. We can also prepare your food for shifts in the weather and other changes that affect food and occur throughout the day.



Special Events Menu Party Tray Catering Menu

The prices listed in these menus apply only to off-site catered events.
From Tray Catering to Buffets, We Offer Flexible Menus & On-Time Delivery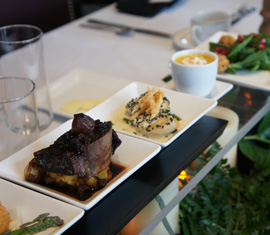 Besides being flexible with the location and timing of your corporate event, we provide you with a wide range of menu options for the food itself. Our experienced catering team knows how to make dishes from virtually every culture and cuisine, allowing you to choose the flavors that you like best or that most closely match the theme of your event.
We also know how to organize and pair those flavors, dividing up your appetizers, entrees, dessert courses and beverages so that the entire meal is fully satisfying. No matter how many different types of food we're serving, we promise to deliver them on time and in good condition.
Kosch Catering matches our many food options with a range of serving methods. Depending on how formal your meeting is, you may choose to be served food at a table, eat from a buffet or receive hors d'oeuvres from a team of waiters. By maximizing both flavors and presentations, we ensure a fun and memorable dining experience.
Off-Site Catering for Events & Venues of Any Kind
In our more than three decades of food service, Kosch Catering has worked with every variety of event and celebration, including:
Holiday parties
Office parties
Corporate meetings
Conventions
Grand openings
Lunch n' Learn meetings
Community events
With such extensive experience, the Kosch team has no trouble anticipating problems that might arise when working in another kitchen, or delivering your food and catering equipment. You can count on us to circumvent these issues and provide quality catering for all occasions and under any circumstances.
---
For more information on offsite catering or catering delivery for your next big event, contact Kosch Catering today!